Accidental Death of an Anarchist by Dario Fo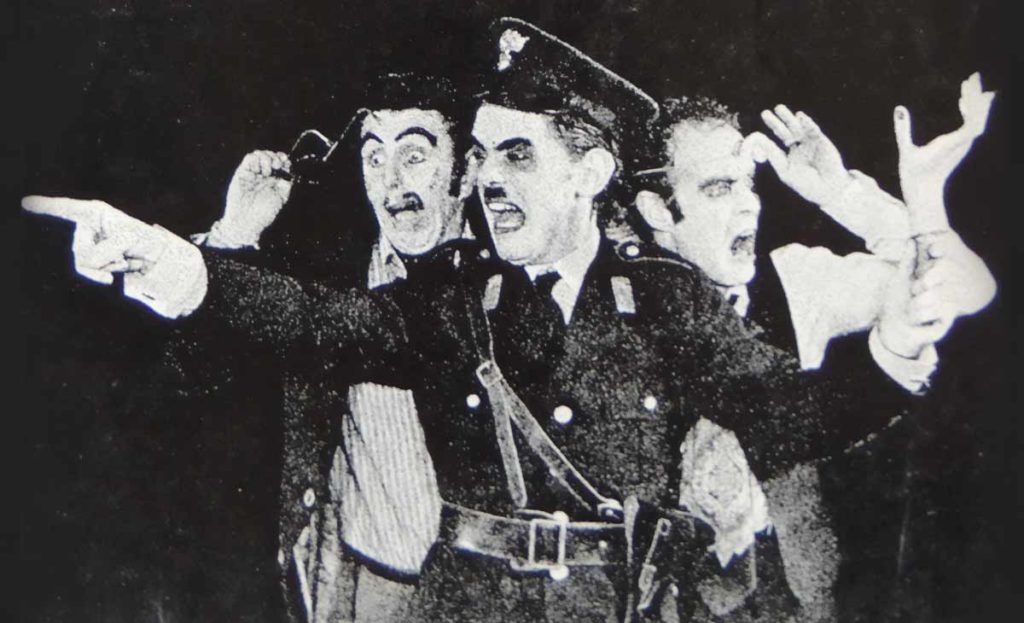 Tuesday 17th January to Saturday 21st January 2023

The Richard Whitmore Studio

The Bancroft Players
'Accidental Death of an Anarchist', a play by Italian playwright Dario Fo, is based loosely on real-life events involving the Italian rail worker and anarchist Giuseppe Pinelli, who died under mysterious circumstances while in police custody in 1969.
The events that led to Pinelli's death have never been revealed, and Fo's intention is to depict a fictionalised version of the aftermath, through the actions of a scheming con man known only as the Maniac. In 'Accidental Death of an Anarchist' the Maniac infiltrates the police headquarters. Posing as an investigating judge, he tricks the policemen into contradicting themselves and admitting that they are part of a cover-up involving the death of an anarchist. Through this probing, hilarious, and shocking investigation, the Maniac reveals himself to be a hero to the people–and the police department's worst nightmare.
The play is a political farce, full of slapstick comedy yet poignant moments that leave the audience questioning the rights and wrongs of those who lead us.
The cast involved in this show will have fun exploring the play's characters through the traditions of the commedia dell'arte (comedy based on stock characters and stereotypes), but apart from the Maniac, the characters are inspired by real people and the script has its origins in authentic documents – and complete transcripts carried out by the various judges and police reports.
Cast
Although originally written for a predominantly male cast, I am not looking for specific genders for any of the characters. All cast members will need to have a good sense of fun, pace and clowning – which will be explored in rehearsals.
Want to know more? – Feel free to drop me an email if you want any more information about the play or the characters
I look forward to seeing you all!
Hannah
Audition Dates
Tuesday 1st Nov 2022 at 8:00pm
Thursday 3rd Nov 2022 at 8:00pm
Rehearsals
Starting on the 21st of November on Tuesday and Thursday evenings.
Production Credits
Written by: Dario Fo and Adapted by Ed Emery
Directed by: Hannah Conway
Performance Dates
Saturday 21st January 2023 at 7:45pm
Cast List
Maniac

Physically strong role, aged between 25 and 40 years old - A conman who changes roles and personalities throughout the play to deliver the truth to the audience about the obvious police corruption. 

Bertozzo

Any gender aged approximately 30 - 60  - Hard nosed police officer, Appears in the beginning of the play and Act 2, where he/she becomes the butt of many slapstick shenanigans.

Inspector in the Sports Jacket

Any gender aged approximately 30-40 years old- Also known as Inspector Pissani - Chief interrogating officer. Lacks a sense of humour and has a quick temper. 

Superintendent

Any gender aged approximately 35 -60 - Highest status Police Officer who has to manage the confusion of the maniac. Oafish and belligerent, and not averse to getting "rough" with suspects. 

The Constable

Any gender aged 20 - 30 - A police officer of low ranking. He / She supports superiors but has a clear self-preservation streak when threatened. Present for most of the play but speaks only occasionally. Follows orders immediately!

Maria Feletti

Female character aged between 25 and 40 - Appears in Act 2. Journalist. Composed, abrupt and confident.