The history of Big Spirit
---
Article by Rory Reynolds, Youth Theatre Director – 2006
May 2006 sees the 22nd anniversary of the founding of The Big Spirit Youth Theatre at the QMT. In that time of course many 100s of youngsters have made the brave decision to come down and join the group (it always takes a lot of courage to come along that first time when you don't know anyone). For the vast majority of newcomers, that first visit stretches into a stay of some 3 to 4 years (from 14 to 18 years as it says in the literature). I think it is a testament to the warmth of the company that few are in a hurry to leave and a significant number stay on for one or even two more years, becoming in their turn group leaders with positions of responsibility. For example, this year two longstanding members are wholly in charge of directing our play destined for the Edinburgh Fringe, Junk. It's not an easy task – Junk has a large cast and the play itself is a toughie, requiring a sophisticated understanding of stagecraft and character work with oodles of physical theatre thrown in. Still I know Charlie W and Katie R are more than capable. It's all carefully monitored of course and taking on work in this way is an important part of their artistic development – consolidating leadership skills as well as allowing them as experienced performers to pass on their hard-acquired knowledge to the next generation. Very much in keeping with our philosophy.
The way we were:
Teechers (by John Godber)
cast looking scary, Edinburgh 1992
Things have changed a lot since 1984. I think my first production with the newly formed Youth Theatre was a play what I wrote myself (to quote Ernie Wise) – Jubilee Hotel – a thinly disguised lampoon of ATV's Crossroads. It starred Julian Newman Turner, Andrew Piggott, Paul Collis, Claudia Burt, Kris Watson, Claire Rushbrook and the self-proclaimed heartthrob of Hitchin Boys School, Charlie Scherer. This group, with some comings and goings, remained together for a long time and became the model for an ensemble company whose spirit has endured. It was a close, friendly gang who loved to act and spend time together. It's probably invidious to mention names but I will anyway – just as they occur to me. Jules, Clauds and Claire stayed on and became part of the next era too, acting with the likes of Ben Hull, Chris Downing and Rob Drummond. There were so many plays that I struggle to recall some of them. There was Drac's Back and a bit later Jules reprised his favourite role in the inspirationally named Drac's Back 2 – The Big Bloodsucker Show. Claire gave a wonderful performance as Medea in Euripides's great tragedy just before she left for drama school. Into the group at around this time came some of my favourite performers: Natalie Gordon (Haslam as it was then), Elliott Lawrence, Sarah Piggott, Diana Larner, Beckie Edwards and Adam Francis.
It was around this time as well that the legendary Jamie Potts came up from the Junior Bancroft Players. He didn't start out a legend – he just acquired his well-deserved status as he became older. At 14 he was one of the youngest in the group and was taken on by the older lads (Ben, Rob and co.) and inducted into the mysteries of acting, smoking and generally growing up. Jamie went on to train as a physical actor and even now works part-time as a professional wrestler with the unlikely tag of 'PJ Monroe' – after Marilyn M who he much admires (and probably desires). Jamie in his period as company leader laid his stamp on an acting troupe that now consisted of new rising stars such as of Nerys Martin, David Roderick, Ben Mellor, Christina Bianchi and some new chap called Ben Whishaw. As Jamie was such a physical performer, we began to devise physical theatre shows based on well-known books: Lord of the Flies, If This is a Man (by Primo Levi), A Turn of the Screw and an unusual piece based on Oliver Sacks' popular casebook of strange neurological disorders, The Man Who Mistook his Wife for a Hat. It was a little later that Peter England, Craig Vye and Sally Reichardt came to join us and together with Andreya Lynham and Amber Noble, a new company came into being. Ben famously took the lead in two very different versions of Hamlet while he was only 16 years old – one pretty straightforward and another, much darker and more physical in the style of Steven Berkoff. Young Ben was an undoubted star that shone but he was well-matched by some of his contemporaries. When Craig's turn came to take on the stewardship of the group, he kept the impetus for physical theatre going. This was partly because his school, Samuel Whitbread Community College in Shefford, encouraged physical performing and partly the visceral approach to performing that he had learned from Jamie years before. As a swansong production for the company, Sally and Craig gave superb performances as the leads in Brecht's masterpiece Mother Courage and her Children.
The link with Samuel Whitbread has been an enduring one and has produced some of our strongest actors over the years. At any one time, up to a quarter of Big Spirit members come from this one school. This is partly because it is a college that traditionally concentrates on performance skills and partly because the two settings complement the work of the other to some extent.
I have enjoyed the frequent collaborations, working alongside other skilled artists on Youth Theatre projects. Tim Hallas is, as we all know, a gifted musician and a great teacher and his input over the years has been remarkable. He has written the music for so many original shows (like Temptation City and Get Over It!) and has always been willing to share his time and talent. Peter England too has written some excellent music for devised shows like Monopoly! and our World War Two musical, Half Moon Street. Robert Day was an early collaborator supplying the electrifying score as well as the lyrics for our Note-able Youth/Big Spirit co-production, Runaways which starred Peter England, Craig Vye, Sean Whatson and the unforgettable Matt Kent.
The range of plays we have tackled over the 22 years has been vast. Lots of Shakespeare of course (Romeo and Juliet twice, Hamlet three times, A Midsummer Nights Dream three times too) and some Brecht (Mother Courage and Mr Puntilla). I think our version of Peter Shaffer's The Royal Hunt of the Sun bears comparison with any RNT production – the incredible ensemble work and the central performances by the likes of Sam Lyden and Carlyss Peer made it very special. I love classical tragedy so our productions of Medea and The Bacchae also stand out in my mind – very dark and very physical.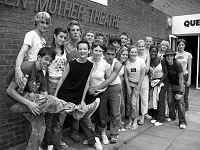 Some of Big Spirit Youth Theatre in 2004
In 2006 with the likes of Charlie Woodcock, Katie Rallison, James Kirwan and James Rallison working alongside, all looks set fair for another generation. The group is very rich at the moment as anyone who saw Get Over It! or our last play, Mr Puntilla and his Man Matti will know. There is a philosophy at work here – they learn from each other, depend on each other and take pride in working as a team together. This is ensemble acting: no egos, no bullshit – just craft and graft.
I have heard doubts expressed that such an indirect teaching method could work effectively with younger actors. Yet it plainly does as the large number choosing (and being chosen by) drama schools attests. About five years ago I gave up on teaching acting in a direct way. At the heart of their training today is the rehearsal process itself. Skills introduced in workshops are then immediately used by the actors for their rehearsal work (and we are always rehearsing something!). I often leave the group to work alone and the performance is distilled by taking the best of what they come up with and using it as the basis for fresh improvisation. This iterative (posh word) rehearsal style is unique to Big Spirit and is something we are very proud of. It lies at the heart of the remarkable performances you see onstage in Big Spirit shows. We deliberately have incredibly short rehearsal period (around 6 weeks) – although each rehearsals may last for several hours. This intensity forces actors to focus and find solutions – they are learning from three sources: specific workshop material, the vast experience that lives within the group and their own growing creative energy.
There is one other thing – something we can call 'group temperature'. Big Spirit is run as a 'cool' group. Now this doesn't mean cool as in 'Cool, man' but cool as in emotional temperature. This is quite deliberate and I think another reason why Big Spirit members like to stay. As teenagers, emotions can be very 'hot' and things can become fraught, hysterical and overwhelming quite quickly. Creativity and good teamwork on the other hand flourish in a relaxed atmosphere and so we have a maxim: 'keep the drama for the stage'. We focus instead on the problems that cause heat – spats between members (pretty rare), feelings of injustice (more common – it's good to have a sense of justice though) and exam stress (basic stress-coping techniques). Overall then, it's a pretty calm group. This 'cool is good' philosophy is lived through some basic Big Spirit rules:
Focus on what is going right rather than what is going wrong
Look for solutions to problems rather than react to them
Care for others and make sure they know you care.
Whenever we have someone else run workshops (and about one third of workshops are led by an outside professional actor or director), they invariably comment on the confidence and strong spirit of creativity within the group.
One final point – we need many more Youth Theatres in this country! I feel sorry for those herds of kids we see whose only activity appears to be hanging around the streets. They would really love to act and we'd like to help out but with 30 members Big Spirit is as big as it should get. However, we seriously need more adults taking on these challenges so that the baton of a love for live theatre and performance is passed down the generations. And it's really appreciated too – as one parent drolly observed The Youth Theatre has been so helpful to my daughter, I think it should be available on the NHS. I guess what she was saying is that performing and being part of the group has given her daughter something very important in her life. And that's the real point of it all – even after 22 years.
Youth Theatre Members' Comments
I told the youth theatre that I was writing this article and two of them wanted to add their own comments.