Company – A Comedy Musical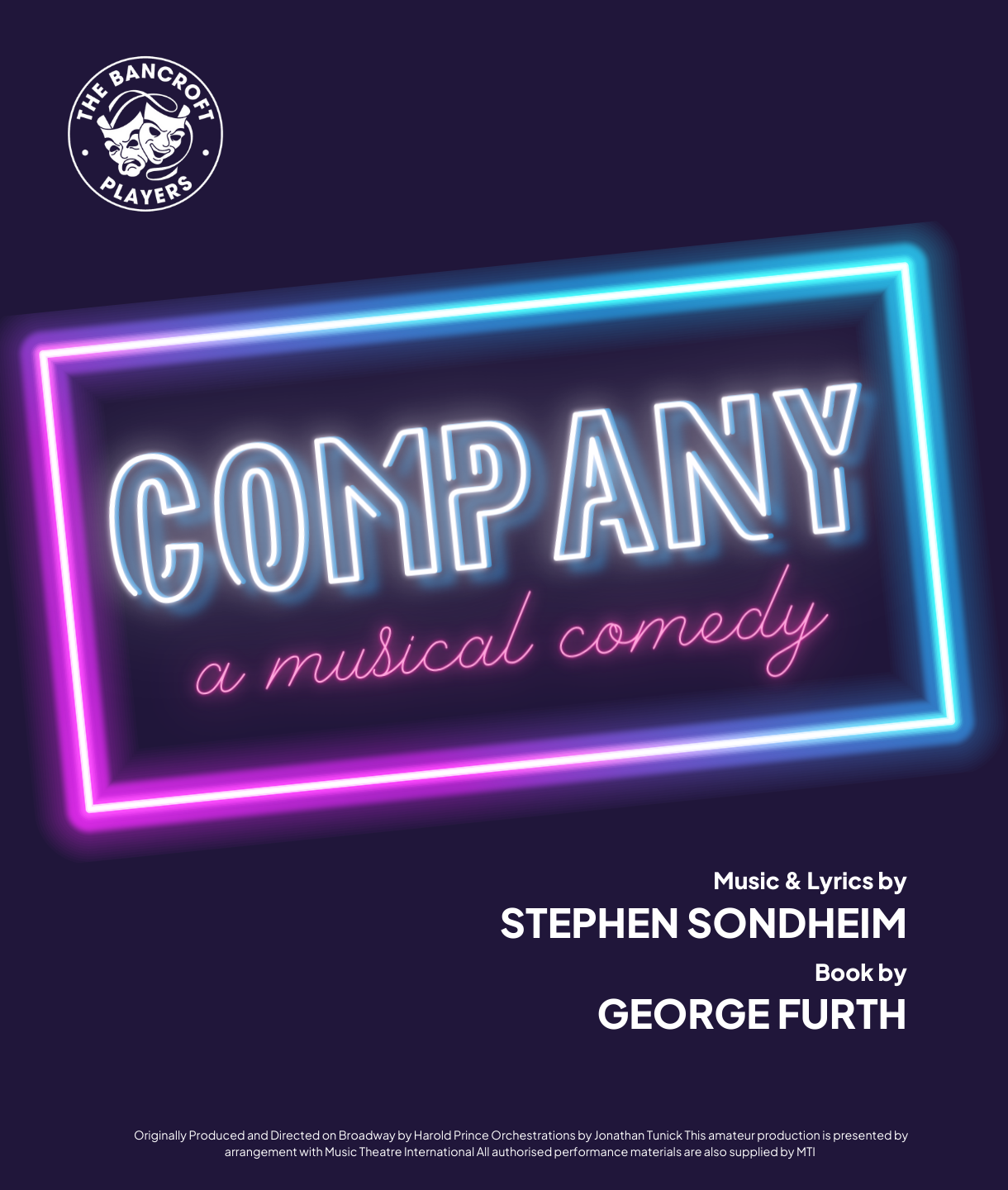 Production Credits
Music & Lyrics:
Stephen Sondheim
Book:
George Furth
Choreography and Movement:
Katie Milward
Musical Director:
Jon Shone
Originally Produced and Directed on Broadway by Harold Prince Orchestrations by Jonathan Tunick This amateur production is presented by arrangement with Music Theatre International All authorised performance materials are also supplied by MTI:

Monday 22nd May to Saturday 27th May 2023

The Queen Mother Theatre

The Bancroft Players
Summary
Sondheim's game-changing musical is a sophisticated and honest look at modern adult relationships.

From musical theatre's most renowned composer, Company is largely regarded as a trailblazer of the dark-comedy, modern-musical genre and the winner of six Tony Awards, including Best Musical, Best Score, Best Lyrics and Best Book.
On the night of his 35th birthday, confirmed bachelor, Robert, contemplates his unmarried state. Over the course of a series of dinners, drinks and even a wedding, his friends – "those good and crazy people [his] married friends" – explain the pros and cons of taking on a spouse. The habitually single Robert is forced to question his adamant retention of bachelorhood during a hilarious array of interactions.
Company features a brilliantly brisk and energetic score containing many of Stephen Sondheim's best known songs. The strength of the piece lies in its vivid yet real characters, meaning impressive technical aspects aren't necessary to convey the story. It can be told as effectively with a cavalcade of automated set pieces as it can with a chair or two. Every audience member will see reflections of themselves in at least one of the characters onstage.
Cast List
Robert

Craig Maddox

Sarah

Amanda Campbell-Phillips

Harry

Vince Mathews

Susan

Jaysica Marvell

Patti

Nicki Pope

Jenny

George Curry

David

Tobin Saunders

Amy

Nicola Henry

Paul

Tommy Browne

Joanne

Claire Adams

Larry

Brian Seal

Marty

Rob Gregory

Kathy

Zara Schäfer

April

Tamsin Goodwin-Connelly