Double Acts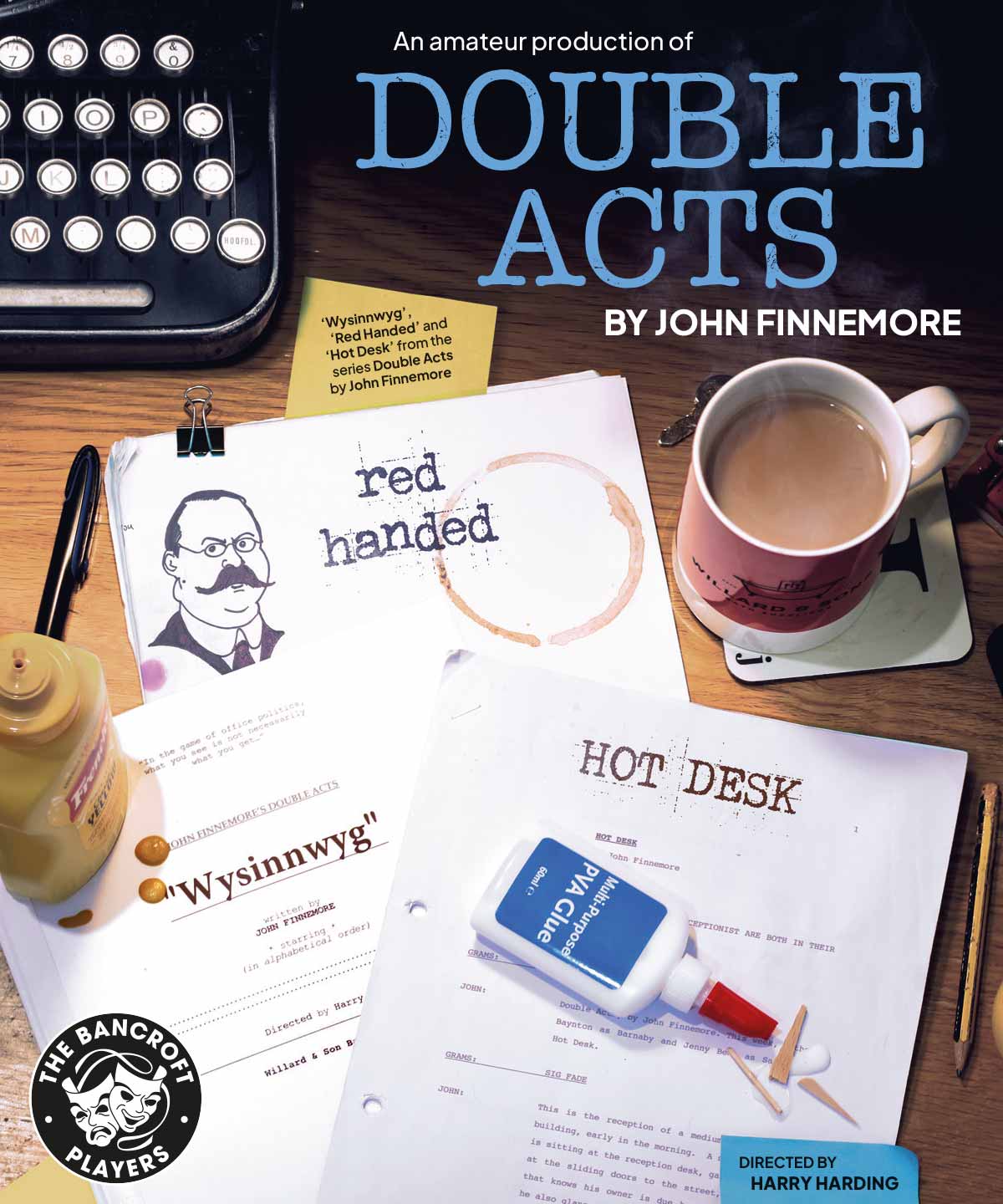 Production Credits
Lighting & Sound:
Andrew Castell
Set Design & Properties:
Christine Neal & Clive Hall
Production Assistants:
Zoe Bednarz, Jennifer Saunders & Scott Henderson
Production Manager:
Emma Saunders
Tuesday 25th October to Saturday 29th October 2022

The Richard Whitmore Studio

The Bancroft Players
Summary
Double Acts was a series of radio comedies produced for BBC Radio 4. It is an anthology series of two-handers. Each episode features only two main speaking parts and is a self-contained play, …although some of them are loosely connected. John Finnemore told me that he had unwittingly connected some of the episodes from his first series, some obvious, others with very subtle hints. The connection? Baths! Specifically, the company is known as Willard & Sons Bath Suppliers. It is where Adele & Kerry from Wysinnwyg, Joel from Red Handed, and Barnaby & 'Sarah' from Hot Desk all work, and it also provides the setting for two of the three plays…
Act One – Wysinnwyg (Comedy/Drama)
In Wysinnwyg, it's Kerry's first day in the Sales Support Department of Willard & Son Bath Suppliers – where she meets her horrific new boss Adele for the very first time.
"In the game of office politics, what you see is not necessarily what you get…"
Act Two – Red Handed (Comedy/Thriller)
In Red Handed, Joel comes home unexpectedly early from work one day to find an unusual visitor in the shape of Henry, an older gentleman dressed in a suit…who just happens to be burgling Joel's house.
"Keep your wits about you, put the kettle on, and prepare yourself…for Henry"
Act Three – Hot Desk (Comedy/Romance)
In Hot Desk, for a few minutes, twice a day, at precisely seven in the morning and seven in the evening, a receptionist and a security guard meet to swap ownership of a desk…which blossoms into an unusual relationship.
"A charming comedy of awkward romance, See you at seven!"
Cast List
Adele

Emma O'Connell

Kerry

Bea Wood

Henry

Ian Colpitts

Joel

Vince Mathews

Barnaby

Andy Bowden

Sarah

Laura Mead