February 2023 Edition
---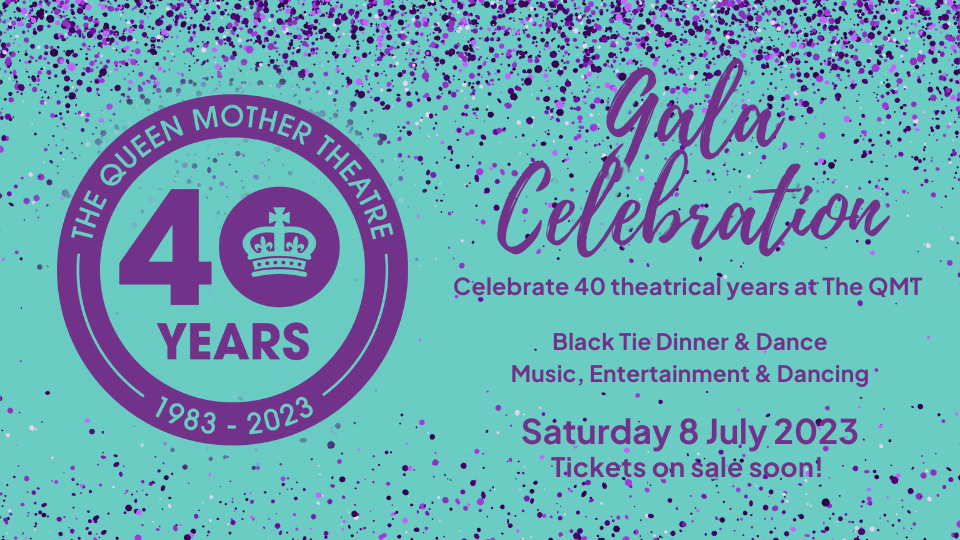 GALA NIGHT
Tickets will soon go on sale for our 40th Anniversary Gala Event!
The date of the event is 8th July 2023 and will be a black tie gala with a drinks reception, three-course dinner, and top class entertainment (and maybe a few other surprises!).
Because tickets will be limited, we will only be selling tickets to QMT members and their guests, with a limit of two tickets per member.
There will be ten tables of ten seats, and these will be sold via our website tickets page.
Tickets will go on sale to members on Weds 1st March 2023. If you have any special requests please contact qmtgala@qmt.org.uk before this date. This includes if you wish to reserve a full table of ten tickets.
Please note that if you do wish to try and reserve a full table you will need to be able to provide the details of the QMT members at that table. Unfortunately we cannot guarantee that we can fulfil every request for a full table booking as there will only be a limited number of tables reserved for this.
Due to the anticipated demand for this event, we do recommend that you get your tickets quickly.
So get ready for some red carpet style in the summer of 2023!!
The Gala Committee
qmtgala@qmt.org.uk
---
ARISTIC DIRECTORS BLOG
Fantastic season so far. Accidental Death of an Anarchist was pretty much a sell-out with a great cast led by Scott. Well done all – lots of laughs and a healthy profit. Who could ask for more. It's deeply impressive to see our Junior BPs take on the Greek classics. Iphigenia is about the daughter of Agamemnon who chooses to die so the fight against Troy can proceed. It's hard enough to do when you have seasoned actors to rely on. But Claudia, directing her own adaptation of the script, drew mighty performances from a cast with a median age of 11. Unbelievable!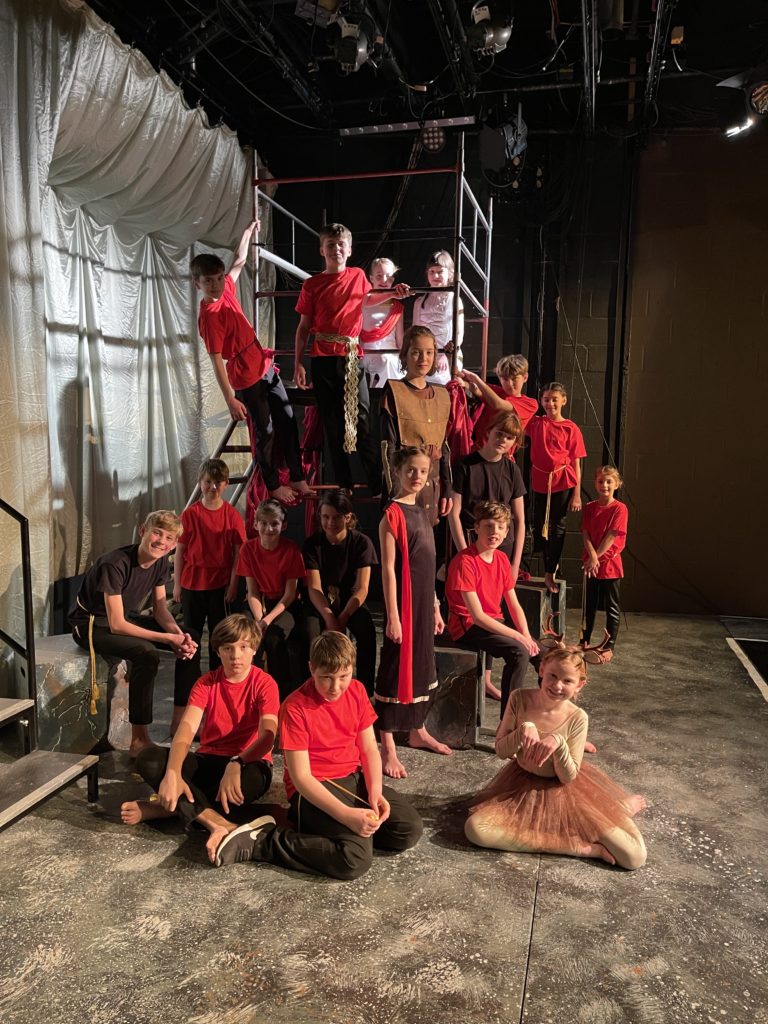 By the by, many young people nowadays read the classics in school and have a deep love for the timeless tales from ancient Athens. It's all very popular.
So we have Equus waiting in the wings. It runs from the end of February until 4 March. More towering performances from a cast ranging in age from 16 to – er well – much older. I suppose this play counts as a modern classic and it's often on the set lists for GCSE and A level. But it's all in the playing and I am sure you will be blown away. Well come along and see!
Big Spirit are working on their show – a spoof whodunnit called There's Something Afoot. In remote Bilious Hall the Lord of the manor invites a group of guests to join him. Among their number is the famous French Detective Hercule Holmes. But bad weather sets in and the bumping off begins. You get the picture. Lots of laughs and a touch of The Play that Goes Wrong makes for a cheery evening of theatre. Catch it soon.
Finally – if you'd like to be a director we are running director workshops once a month. Each one is led by a different director so you'll get a wide range of practical advice. Come on, you know you've secretly always wanted to direct! And this is your first step before you put on your debut show! Dates in the newsletter.
As ever lots to do and see here at the QMT! Hey it rhymes. Talking of rhyming – how about a limerick competition this month? Bottle of bubbly for the best one starting:
'There was a young actor named Billy….'
or 'There was an old actor from Ealing….'
Text your sterling efforts to the BP Facebook page.
Stay dramatic
Rory Reynolds
Artistic Director
---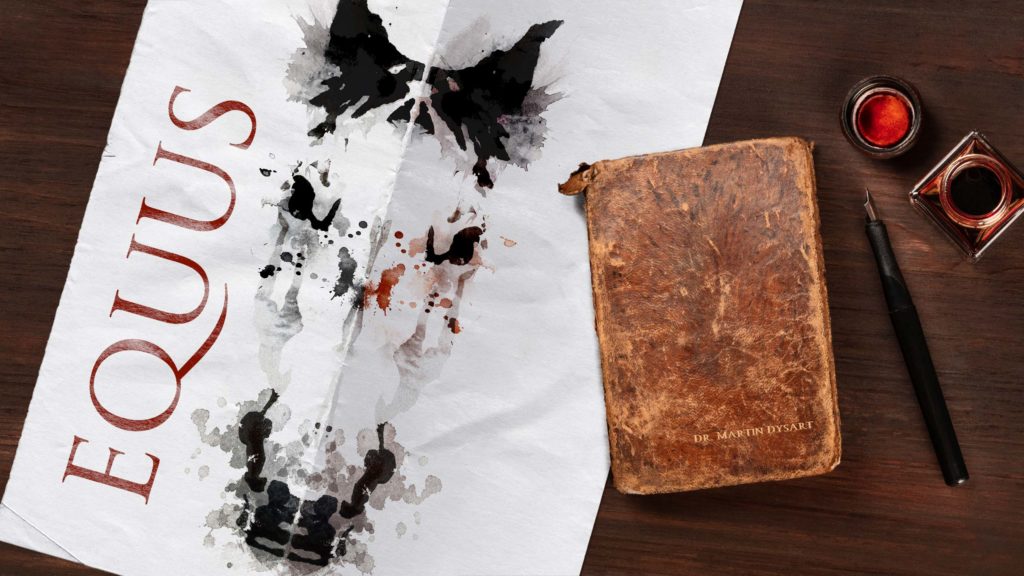 EQUUS – LATER THIS MONTH!
Equus is about a boy who blinds 6 horses. We know he did it – there's no question about that. Alan is just a normal 17 year old so the problem for Dysart, the psychiatrist at the special adolescent unit where he is sent, is why? Why would an ordinary, kind, naive youngster behave so monstrously?
Equus follows Dysart's journey of discovery as he works with Alan. The thing is – the journey changes Dysart himself. He recognises that there is something about Alan that he himself lacks, something Dysart the intellectual has always lacked – passion. He begins to feel that his life, exalted and privileged as it is, pales by comparison with this simple teenager who knows the full force of his God's love. And ironically, it is down to him as a psychiatrist to cure the boy and make him safe by taking away that remarkable passion.
A modern classic play that remains shocking and riveting.
---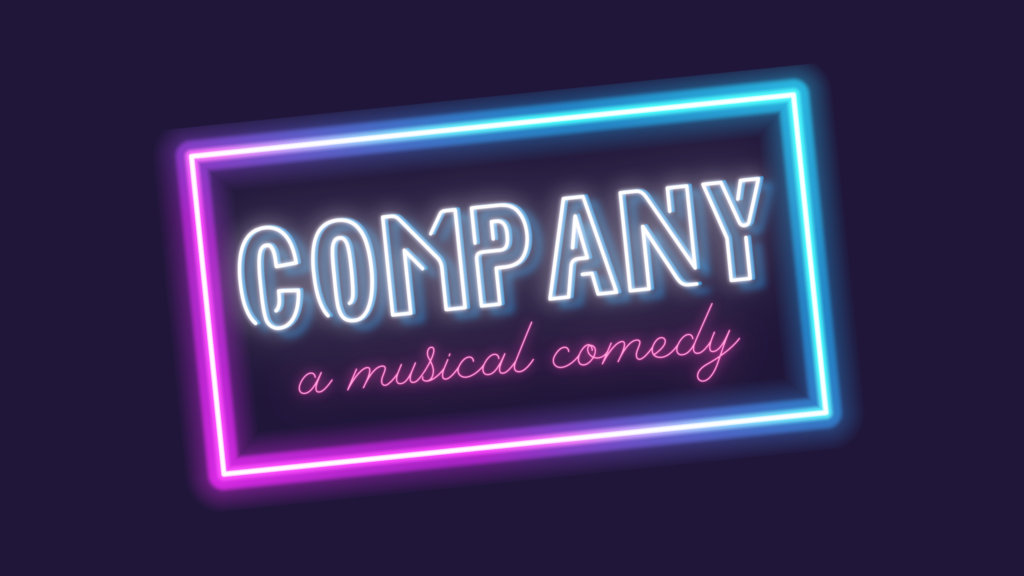 COMPANY AUDITIONS – THIS WEEK!
Don't forget that auditions for COMPANY are happening this week – so looking forward to seeing you there.
Audition Dates
Tuesday 7th Feb 2023 at 7:45pm
Thursday 9th Feb 2023 at 7:45pm
Rehearsals
Rehearsals will be on Tuesdays and Thursdays, with some Sundays as needed
Opening on Broadway in 1970, Company with music and lyrics by the late Stephen Sondheim and a book by George Furth went on to receive 14 Tony Award nominations (a record at the time) and ended up winning six of them, including Best Musical.
Originally a series of individual scenes written by Furth, it wasn't until Sondheim showed them to his friend and collaborator Hal Prince that he said they would make a good musical. So, Sondheim got to work and tied them all together around a central character celebrating their 35th birthday and dealing with the challenges of modern life and the struggles of dating, marriage, and divorce. This central character shared the stage with 5 married couples and three love interests.
The show takes place in central New York and in this production, I hope to be able to transform the main auditorium into a multi-layered performance space by removing the main stage and building a large bridge which connects either side of the stage which the actors can walk over, under and around in all the various scenes and musical numbers.
In total I will need 14 performers, who can all sing (the harmonies are gorgeous, but a challenge!), act (the scenes are equally comedic and emotional) and move/dance (there are at least 4 large production numbers).
---
200 CLUB
Congratulations to our January winners. Remember to get in touch if you'd like the chance to win every month – it's only £12 per year!
January 2023
£25.00 – Ann Mulholland
£20.00 – Vivien Kerr
£15.00 – Mrs F Scoresby
£10.00 – Amanda Campbell-Phillips
Paula Downes
Paula.downes@ntlworld.com
---
CASTING NEWS
Beginnings by David Eldridge has been auditioned and now cast – congratulations to:
Cast
Laura – Hannah Morgan
Danny – Gareth Martin
Tickets for this show will be on sale very soon!
---
FIRST AID TRAINING
Having recently taking over the role of Front of House co-ordinator I was quite daunted when it was pointed out that our member's First Aid certificates were due to be renewed and that it was up to me to arrange this. However, once Paula pointed me in the right direction I arranged two courses, a three-hour course, which many BP members have done before, plus a full day course which covers emergency first aid at work as well as the basic life support covered on the short course.
Thank you to everyone who has signed up so far. We still have a few places on the full day's course on Sunday 12th Feb and it's not too late to sign up should you wish to do so. BP are covering the cost. You can join in via RotaCentral or email me at frontofhouse@qmt.org.uk and I can add your name. The shorter course on 12th March is now full and we have a short waiting list. If you are booked onto this and are no longer available please do let me know so that I can replace you. Likewise, if you'd like to be added to the waiting list please email me.
As it stands, we are set to have at least 23 freshly trained first-aiders, which I think is a very healthy position to be in, so thank you volunteers.
---
COFFEE SHOP & KIOSK
As many of you will know while Emma O'Connell and Andrew Piggott have been tweaking the running of the bar at the QMT Andrew has also been working on the way we manage the provision of hot drinks and ice creams at the theatre. From Equus onwards (27th Feb) we'll need an extra volunteer for main theatre productions to come in as the show starts to get the kitchen ready. During the interval they will be joined by the steward of the evening to sell tea, coffee, ice creams and snacks. After the interval the steward returns to the auditorium to continue to watch the audience (and the show) whilst the Tea & Coffee person tidies up and leaves the cups and saucers in the dishwasher, ready for the following night's team to unload the clean crockery.
---
ADDITIONAL FRONT OF HOUSE TRAINING
Andrew Piggott and the two Emmas (O'Connell and Northcott) are hoping to offer a social evening soon when members, old and new, can come and find out more about how the various Front of House roles have evolved. This is a great opportunity, not only for people new to the club who would like to start volunteering, but also for experienced members to share their words of wisdom and helpful advice on how to ensure that our audiences get the best experience possible every time they visit our wonder theatres. The bar will be open and Andrew might even be offering ice cream samples! Watch this space for date confirmation. In the meantime anyone volunteering for FOHM, Bar or Tea & Coffee roles will be guided through the role on their first shift. Written guidance is also sent out to all FOHM and Stewards a week before each show. (Please read as it keeps changing e.g. stewards are being asked to help with hot drinks during the interval for main theatre shows.) Thank you for volunteering – Why not go and click that orange RotaCentral button right now?
---
MEMBERS EVENINGS
We are currently finalising plans for the future members evenings – we really would like to make these events a standard night in everyone's calendar. We've tried holding quizes, games nights, poem recitals, and even just opening the bar – and while all the nights were fun for those who came along, we haven't really seen these events bring the membership together. So, we'd love to hear from you – do you want a race night, bingo, karaoke, more quizzes, play readings…the world is our oyster.
Elliott Bunker
Membership Secretary
members@qmt.org.uk
---
DATES FOR YOUR DIARY
February
7th & 9th – AUDITIONS – Company
10th – Directors Workshop
24th – Members Evening
27th – 4th March – Equus
March
10th – Directors Workshop
22nd – 25th – Big Spirit – Somethings A Foot!
29th – 1st April – Hitchin Thespians – Honk!
April
7th – Members Evening
12th – 15th – PBGS – HMS Pinafore
18th – 22nd – Beginnings
24th & 26th – AUDITIONS – Red Lion
28th – Members Evening
May
July