March 2023 Edition
---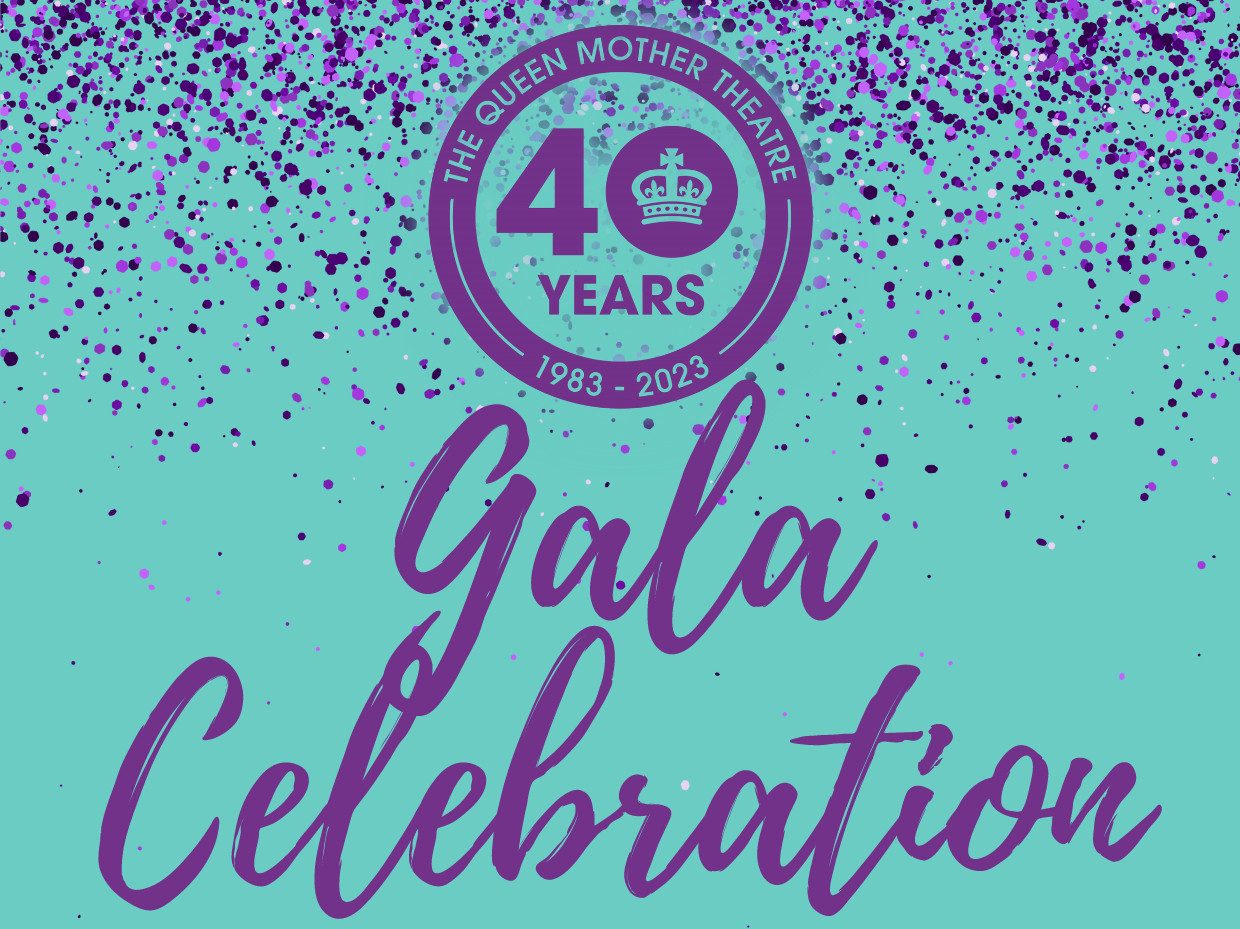 GALA NIGHT TICKETS ARE NOW ON SALE!
The date of the event is 8th July 2023 and will be a black tie gala with a drinks reception, three-course dinner, and top class entertainment (and maybe a few other surprises!).
Because tickets will be limited, we will only be selling tickets to QMT members and their guests, with a limit of two tickets per member.
There will be ten tables of ten seats, and these will be sold via our website tickets page.
If you have any special requirements or questions please contact qmtgala@qmt.org.uk. This includes if you wish to reserve a full table of ten tickets.
Please note that if you do wish to try and reserve a full table you will need to be able to provide the details of the QMT members at that table. Unfortunately we cannot guarantee that we can fulfil every request for a full table booking as there will only be a limited number of tables reserved for this.
AT the time of writing this 50% of the tickets have already been sold, so please don't delay – get your tickets quickly.
So get ready for some red carpet style in the summer of 2023!!
The Gala Committee
qmtgala@qmt.org.uk
---
ARTISTIC DIRECTOR'S BLOG
 I originally asked ChatGPT to write this blog in the style of Rory Reynolds but it turns out the AI chatbot that's raging over the internet had never heard of the guy. Ryan Reynolds – absolutely, Debbie Reynolds – it'd give it a go, Vera Lynn – no problem. Yeah so basically I'm having to do this with a quill and parchment.
Well, with Equus now well underway (there is still time to get your tickets) – great production by the way if you missed it. Well it was great production if you didn't miss it, if you caught it. Still cracking… What was I saying? Oh yes – now we look ahead to Spring at the QMT. And we have some wonders to reveal. The first is the play Beginning in the Studio. It's a wise script by David Eldridge about the beginning of a relationship, how fragile it all is at the start. With One of our most experienced directors in charge, Keith Swainston, we know the whole thing will crackle with life. Then coming In May to the main house we have Stephen Sonheim's, Company.  There's such a buzz about it already. Fun fact, one of the cast is the mother of George who played the boy in Equus and that's what we love about this place – it's for all the family. 
The monthly Friday Director's workshops are proving a big hit. The next facilitator is Jenny Wall who works for LAMDA and has strong links with our theatre. So if you've ever wanted to dabble in directing, do come along. You'll really enjoy it.
Have you got your tickets for the the QMT's 40th birthday party yet? If not, get in quick. It's gonna be a hell of a bash with all manner of classy entertainment on offer. Come if you can.
Okay ChatGPT over to you for the final bit. What do you wanna say?
In conclusion, those who love theatre are part of a vibrant and diverse community that spans the globe. Whether they are actors, directors, playwrights, designers, or simply enthusiastic audience members, they share a deep appreciation for the power of storytelling and the magic of live performance. Through their love of theatre, they connect with one another, challenge themselves, and find inspiration and joy in the shared experience of the stage. Long live the theatre and the people who keep its spirit alive!
Well – can't say better than that, can you?

Rory Reynolds – Artistic Director
artisticdirector@qmt.org.uk
---
200 CLUB
End of February already, where does the time go to. As always I am on the look out for new members. I appreciate the money is tight at the moment but I am talking about £12 a year to help your wonderful theatre in its 40th year. So easy to join via the QMT website. Give it a try.
Congratulations to our February winners.
£25 – Mr R O'Dell
£20 – Richard Millichip
£15 – Brian Seal
£10 – Bron Martin
Paula Downes
Paula.downes@ntlworld.com
---
FRONT OF HOUSE NEWS
It is so great to see members of Big Spirit being addedd to RotaCentral (our online front of house rota management system) – a big shout-out to Lola, who was the first to sign-up to do a shift in the Kiosk/Coffee Shop. It's our Front of House volunteers that enable our great shows to be enjoyed by our audiences. Thanks for volunteering.
Our next First Aid course is being held on 12th March from 9.30 until 12.30. There are still one or two spaces on this course, so grab one via the orange button on RotaCentral or email Emma on allerton47@sky.com to request a space. Thank you to those who have already signed up for this, it promises to be a very worthwhile morning. There will be more sessions organised soon as we need to have at least two trained members on site for each public performance – so look out for more information soon.
While we are talking about RotaCentral – please can you avoid responding to the email the system sends ay are sent to an account that is not monitored – the best way is to contact Emma directly.
Emma Northcott – Front of House Co-ordinator
allerton47@sky.com or frontofhouse@qmt.org.uk
---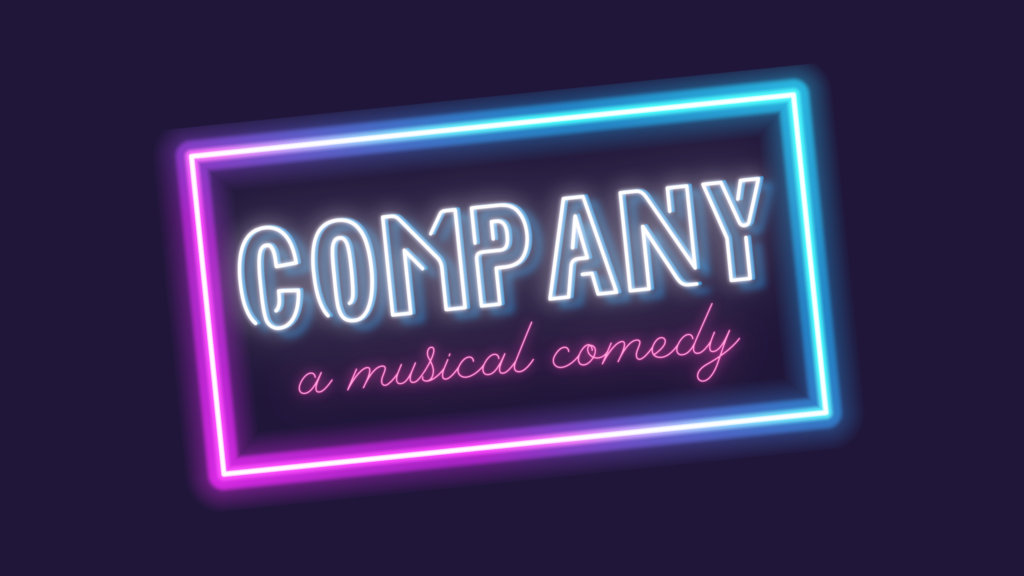 COMPANY CAST NEWS
We had such an amazing turn-out to the auditions for Company – Jon, Katie and I were completely thrilled and are very excited to announce the cast is as follows:
Robert – Craig Maddox
Sarah – Amanda Campbell-Phillips
Harry – Vince Mathews
Susan – Jaysica Marvell
Patty – Nicki Pope
Jenny – George Curry
David – Tobin Saunders
Amy – Nicola Henry
Paul – Tommy Browne
Joanne – Claire Adams
Larry – Brian Seal
Marta – Allie Marie Hunter
Kathy – Zara Schäfer
April – Tamsin Goodwin-Connelly
Rehearsals have already started and the team are getting along so well – especially in the bar after rehearsals (please come and join us anytime!) and have arranged to see future productions together – so great to see a cast and crew bonding so quickly!
Tickets are also onsale, so don't delay and get your today!
---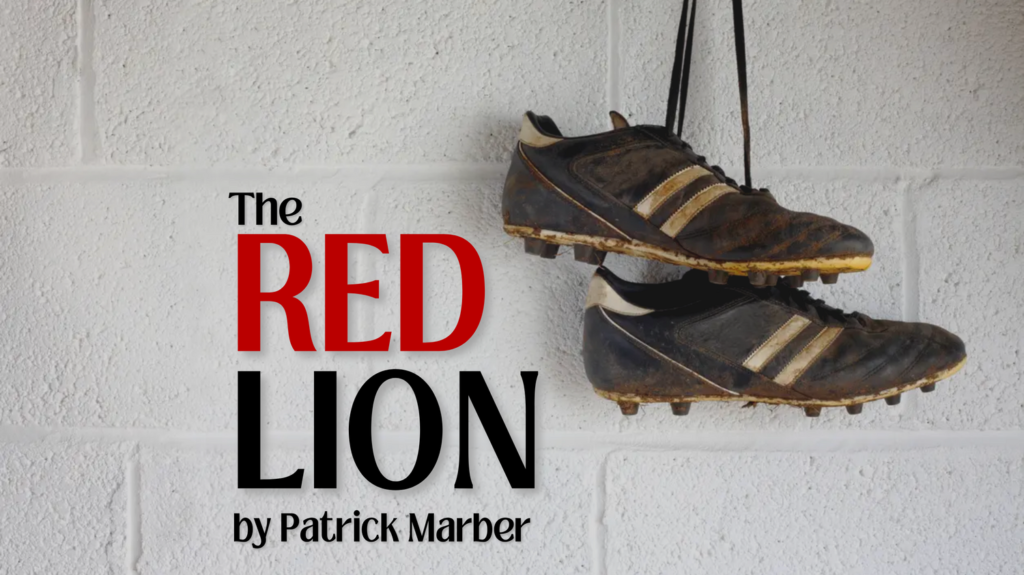 AUDITION NEWS – THE RED LION
Written by: Patrick Marber
Directed by: Matt Gray
Audition Dates
Tuesday 14th Mar 2023 at 7:45pm
Thursday 16th Mar 2023 at 7:45pm
Should it be the case that when winning means everything, loyalty means nothing?
It's the small-time. The semi-pro. The non-league. In a world removed from the glamour, the wealth and the television cameras, a non-league team are struggling to make ends meet. So, when a gifted young player arrives out of nowhere, it's the opportunity everyone's been waiting for.
For the kit man, Yates, this brilliant player will restore the declining fortunes of the whole team. But for the ambitious manager, Kidd, the is the opportunity to make him his own. Whilst the old soul of the club itself still has dreams of glory.…
Exploring issues of trust, loyalty, and conflict across generations, and as one reviewer noted on release, it's 'a blistering exposé of rudderless masculinity'.
This is a beautiful play about the beautiful game.
This play was originally going to be directed by Keith Warren, who talked to me about his ideas for the show before he sadly died last year. I'm hoping to incorporate these ideas into the show, and try to ensure that it also embodies his great love of the game, and in particular grass-roots football.
Character List
Yates – An old man
Jordan – A young man
Kidd – Somewhere in between
Scripts will be available from the box office soon.
Matt Grey – Studio Manager & Director
mrmattgrayis@hotmail.com
---
NEWS FROM THE EC
Our last EC Meeting was on Sunday 12th February – so here is a brief summary of the key points raised:
The new season for 2023/2024 was confirmed by Rory and the new play selection committee – it's a very exciting and varied season of plays for both the main house and studio spaces – put Friday 12th May in your diaries as that will be our new season launch night!
We've been in discussion with Hitchin Film Club to start selling their tickets via our website to broaden the programme of events on offer publically – there have also been discussions with them to start hosting NTLive and NT Encore events in the future
The final set of paperwork is due to be sent to the Charity Commission this month to kick-off the final stage of the transfer of our charitable status – we cannot guarantee how long this might take, but we would love to be able to complete this by the end of the current season – fingers crossed.
Claudia (chair of the Gala Committee) confirmed that all the plans were well underway and the tickets would be onsale from 1st March
End of Year accounts have been submitted to the Charity Commission
In advance of the Gala Celebration in July and a mini-refresh of some of the Front of House and public spaces – we'd like to organise a working party and clear out some areas of the theatre that have become a bit of a dumping ground and collection point – a date will be shared soon and any help will be very welcomed!
An updated Code of Conduct for The QMT will be presented by Matt Gray at the next AGM – which is to be held on Thursday 13th July 2023 (another date for your diary!)
The date of the next EC meeting is Monday 13th March 2023
Vivien Kerr – EC Secretary
committee@qmt.org.uk
---
NEW MEMBERS WELCOME!
Since the beginning of the year we have recently seen a flurry of new members join The Bancroft Players – which is so wonderful to see. So if you meet them at a show or in the bar after rehearsals, or at a members evening, please make sure you say hello!
Clive Dancey
Sarah Thorndyke
Will Hextall
Andrew Johnson
Nicola Henry
Claire Adams
Ross Innes
Tobin Saunders
George Curry
Karin Scarlett
Pam Newman
Tony Russell
Elliott Bunker – Membership Secretary
members@qmt.org.uk
---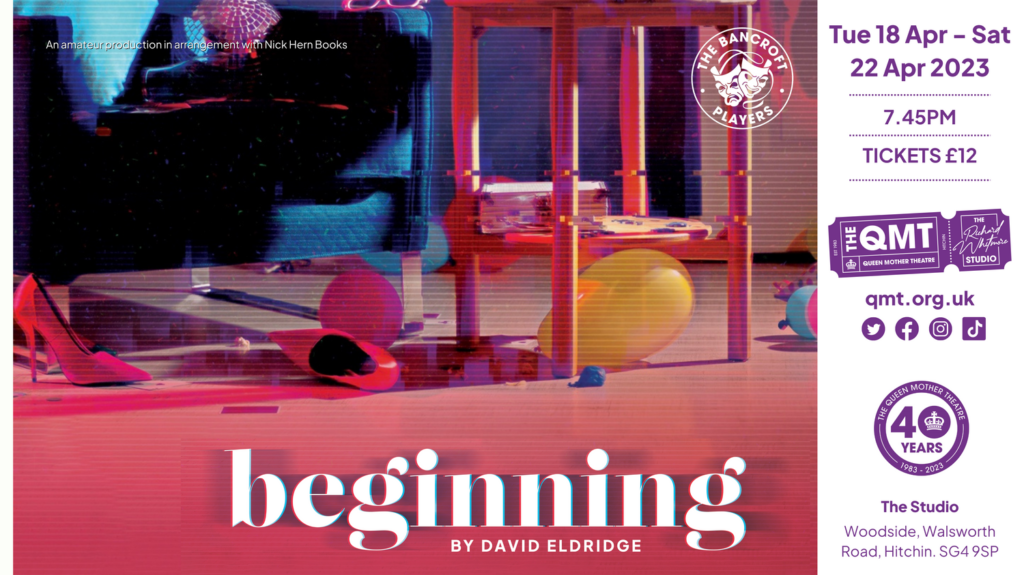 BEGINNING BY DAVID ELDRIDGE
Every story starts somewhere.
It's the early hours of the morning and Danny's the last straggler at Laura's party. The flat's in a mess. And so are they. One more drink?
This sharp and astute two-hander from David Eldridge (Market Boy, The knot of the Heart, In Basildon, Middle) takes an intimate look at the first fragile moments of risking your heart and taking a chance.
This tender funny play received its world premiere at the National's Dorfman Theatre in October 2017. It later transferred to the West End's Ambassadors Theatre in January 2018.
'It's the tentative (anti) romance for 21st century London life and it is, quite simply magnificent'
Evening Standard
'Written with real depth of insight, humour, compassion and a keen sense of the ridiculous'
The Independent
'One of the funniest, touching, most excruciating plays of seduction'
Telegraph
---
COMING SOON IN MARCH
---
MUSICAL REVIEW
In the first of two articles for The GreenRoom, Keith Crook, our former archivist, treasurer and musical director, (to name just a few roles), looks back at some of the history of The Bancroft Players and their love of musicals. In this first article he charts the history up to the opening of The QMT from 1945 to 1983.
From its inception in 1945 the BPs performed only plays, mainly in Hitchin Town Hall and a few in the Dell. After nearly 30 years musicals were added to the programme. A musical adds four factors to staging a performance – (1) the actors sing (2) the team includes a musical director (MD) as well as a director (3) a band/orchestra has to go somewhere (4) there should be a conductor placed centrally in front of the stage. Some societies do have a conductor – otherwise how will the poor dears know when to start singing – but we have never used a prominently-placed conductor for any musical event. So in 1974 we performed our first musical event to which the obvious question is why, having gone for so long with just plays. The answer to this lies outside of the Bancroft Players and goes back to the 1960s when there was an annual Hitchin Carnival organised by the Local Yokels, a group of people who raised funds for local hospitals.
The carnival consisted of some events, a Beauty Queen competition, a procession of floats which started in Letchworth and ended up on Butts Close in Hitchin and a Carnival Ball. In 1966 John Harrison from the Yokels approached John Gardiner with the idea of staging some kind of show as an additional fund-raiser. JohnG had recently arrived in the town to take up a teaching post and was fast becoming recognised as someone with exceptional talents in stage activities. Any profits would go to the Local Yokels but in return they would underwrite any loss which might be incurred so John approached various people and assembled a group of 12 plus pianist Geoff Oxley.
The first show was a revue, at that time a popular form of entertainment with a wide range of material to choose from. The audience sat at tables and drinks were served throughout the evening. To identify the group John chose the name Externals since the players belonged to some other stage group – indeed many were BPs. After two shows Geoff Oxley moved away and I took over as the MD. They performed for four evenings in July in the Town Hall; 4 revues and 5 musicals – Oh What a Lovely War, Irma la Douce, Lock Up Your Daughters, Sapristi Scapino and Cabaret . Cabaret was directed by Michael Everitt and the others by John Gardiner. The shows were extremely popular and after the first production all were fully sold. In 1974 the BPs approached John Gardiner to see if he would consider deploying the efforts of the Externals towards the society.
Most of the Externals were members anyway and the Carnival was discontinued for various reasons, mainly to do with Health and Safety. So the table show was established as a viable form of audience seating for shows. The bar made a significant contribution to the profits which began to make thousands rather than the hundreds that plays produced.
We did 18 shows in the Town Hall from 1974 to 1982. The first was the hugely successful Put That Light Out, a light-hearted look at WW2 which derived from a members evening at St Annes. The theme was a family at home and in the battlefield interspersed with acts from the 1940s like Gert and Daisy and the Western Brothers. Production costs were small as there were no royalties and the band was just me and a drummer. There were 5 compilation-musicals and 13 published musicals. Like non-musical plays these required a set which had to be built at St Anne's Hall, transported to the Town Hall, put up on the Sunday for a week's run then taken down the following Sunday and returned to the hall.
Many of these shows were repeated in the QMT. The musicals were The Boy Friend, Sweet Charity, Jack the Ripper, Big Al, Calamity Jane, Something's Afoot in which the setbuilder Ron Parrett took a bow for one of the most complex sets in the history of the BPs, Fings Ain't What They Used to be, The Dracula Spectacula, How to Succeed in Business without really trying, Gypsy with its 23 scene changes, Company, Cabaret and Guys and Dolls. Most were directed by Mike Everitt and Annie Wilkinson, sadly no longer with us. In addition to the plays over the 9-year period the musicals produced significant funds to start thinking about building our theatre, Although it can't be proved there seems little doubt that without these musicals, the funding to start the theatre would have happened many years later, if at all. So, little did Mr Harrison know in his meeting with JohnG in 1966 that he was effectively sowing the seed for what would become the QMT. John Gardiner went on to become the first Artistic Director of the BPs when the theatre opened in 1983.
Keith Crook
---
KEEPING UP TO DATE
I know Facebook is not everyones cup of tea, but in between the monthly editions of The GreenRoom there is a place you can go to keep up to date on the weekly comins and goings of BP life at The QMT, and that's The Bancroft Players Facebook Group – this is exclusively for members (old and new) and is a great place to put a call out, share some news or catch-up on the gossip. So, please consider joining in the fun today!
---
DATES FOR YOUR DIARY
March
April
May
12 – New Season Launch Night
22-27 – Company
June
July