JANUARY 2023 EDITION
Welcome to 2023 and a very Happy New Year to you all. As many of you will know 2023 is a big milestone for The Bancroft Players as this year marks 40 years of The QMT being our theatrical home; obviously The BPs have been around for almost double that time (80 years in 2025!), but this year we're going to celebrate the amazing things we've achieved, and continue to achieve, since our doors opened in July 1983.
Later in the year we'll be hosting our amazing gala evening, but we'd also like to be able to share your stories and memories from those 40 years – so please do get in touch with any photos, stories and anecdotes that you'd like to share about your experiences at The QMT.
---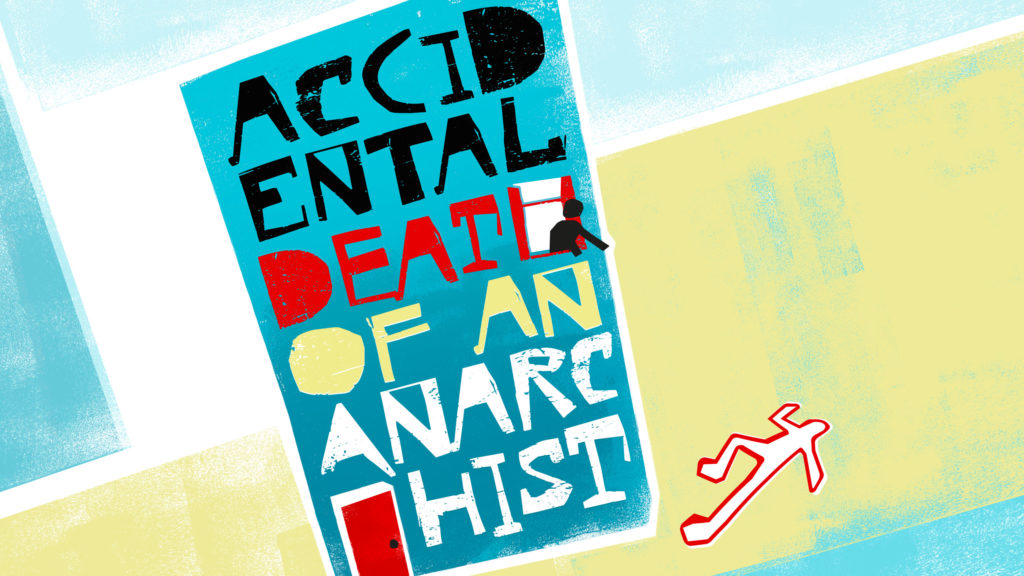 ACCIDENTAL DEATH OF AN ANARCHIST
The first show of our 40th Year is the anarchic ACCIDENTAL DEATH OF AN ANARCHIST in The Richard Whitmore Studio. A shape-shifting fraudster, known only as The Maniac, is brought into Police Headquarters as the officers inside prepare for a judicial review of the 'accidental' death of a suspect weeks earlier.
Rehearsals are well underway and Hannah and the team are pulling out all the stops to make this a production to remember
Accidental Death of an Anarchist run from Tuesday 17th to Saturday 21st January 2023
---
ARTISTIC DIRECTORS BLOG
Well happy New Year folks! Another year gone as 2023 swings into prospect. Thanks to Dee, Richard and all the cast, backstage and technical guys for a swinging panto. Hope you came along. I did on the adult night and it was a hoot!
So what's in the Theatre gander-bag for January and February? In January we have Accidental Death of an Anarchist, Dario Fo's brilliant satire and homage to commedia. If you like laughing – and who doesn't – you had better come along and be tickled.
In February/March we have Peter Shaffer's stunning Equus in the Main house. We have a super cast and a great crew to bring you a top-notch production. Interestingly, Richard Clothier who played Alan Strang in our 1984 production, is coming along to see it. He's now a regular with the RSC so we'll definitely need to be up to snuff!
We are casting plays too – Beginnings is a wonderful two-hander by David Eldridge auditioning on 23 and 25 January – scripts now available from the theatre. And in February we have Stephen Sondheim's Company auditions. Scripts should be available soon – see elsewhere in this issue for more information.
If you've always fancied trying your hand at directing – we have a series of Director workshops aimed at aspiring directors starting in January. They will inspire you and help you plan how to direct the show you were born to bring to the stage. Each workshop is on a Friday night so you can enjoy the bar afterwards and relax with like-minded people.
There is so much to do and be part of at the QMT – come down soon and have some fun. You owe it to yourself!
Happy New Year!
Rory Reynolds
Artisic Director
---
NEWS FROM THE EC
Hot off the press as the EC only met on the morning this newsletter is being written – here are a few highlights from that meeting.
We've been making excellent progress on our application to change our charitable status to a CIO – Shonali has been leading this work with our lawyers and we are not far from proceeding with our applicaion to the Chairty Commission. We just have a couple of points to confirm, which should be completed by the end of January.
Membership numbers have grown well in the last couple of months – although we are still in need of more members in our Technical team as a major priority.
As we enter our 40th year, we are really happy to confirm that all the main arrangements for our gala event in July are now confirmed and the tickets should be on sale in the coming weeks – remember to keep the 8th July free as there are only 100 tickets available – although there will be other events throughout the year where you will be able to celebrate.
Financially we continue to be in a good place – although expenses have remained high with show costs and general running expenses. The EC would like to remind all members that no expenses under £200 will be paid without agreement from the Department Head, Show Director and appropriate receipts. Any expense above £200 needs approval from a member of the EC and Treasurer, so please bear this in mind before spending.
We are currently finalising updates to our Safeguarding, Code of Conduct and Grievance policy and processes – mainly inline with our CIO application, but also to ensure we can provide a safe and welcoming space for our members and external hirers – these will be published very soon and presented fully at the next AGM.
Emma Northcott, who manages our Front of House teams will soon be setting up additional Front of House training and First Aid training, which will be published in February.
Remember that our next EC Surgery is Friday 27th January – so please do come along and have a chat with any members of the EC.
Elliott Bunker
EC Chair
chairman@qmt.org.uk
---
AUDITION NEWS
BEGINNING by David Eldridge
Audition Dates
Monday 23rd Jan 2023 at 7:45pm
Wednesday 25th Jan 2023 at 7:45pm
Every story starts somewhere
It's the early hours of the morning and Danny's the last straggler at Laura's party. The flat's in a mess. And so are they. One more drink?
This sharp and astute two-hander from David Eldridge (Market Boy, The knot of the Heart, In Basildon, Middle) takes an intimate look at the first fragile moments of risking your heart and taking a chance.
This tender funny play received its world premiere at the National's Dorfman Theatre in October 2017. It later transferred to the West End's Ambassadors Theatre in January 2018.
Characters
Please note the ages are a guide only, so don't be put off.
Rehearsal nights: Mondays and Wednesdays
Performance Dates: Tuesday 18th – Saturday 22nd April 2023
Scripts will be available from the box office soon.
Keith Swainston
Director
---
DIRECTORS WORKSHOPS
As part of our policy of offering great training at the QMT, we have a series of Director workshops for those of you who want to explore new creative challenges.
These workshops are aimed squarely at those who may have done a little acting or backstage work but now want to take the next step. You may not have a play in mind, but even so its work learning what a director does and to practise some of those skills in a safe environment.
Each workshop lasts two hours and is run by someone who has extensive experience. I have looked for people who we think will bring new skills into the Society and excite the director lurking within you.
Each workshop is standalone and free to members.
Friday 13th January – run by Katie Rallison
Friday 10 February – run by Allie Marie Hunter
Friday 10 March – run by Jenny Wall
Each workshop begins at 7.30pm and the bar is open afterwards!
Rory Reynolds
Artistic Director
---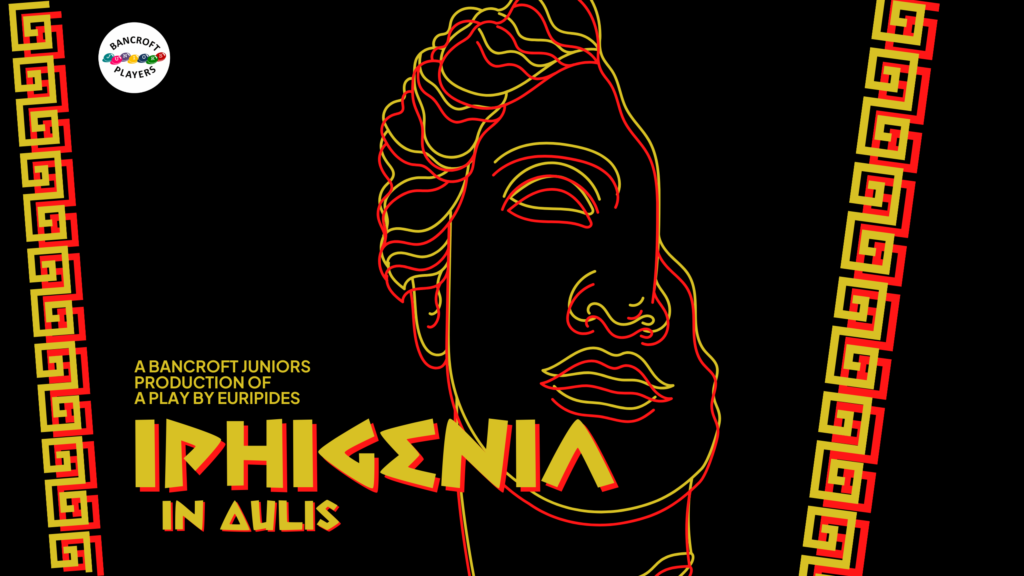 JUNIORS PRODUCTION – IPHIGENIA IN AULIS
The story concerns the legendary sacrifice of Iphigenia by her father, Agamemnon.
When the Greek fleet is becalmed at Aulis, thus preventing movement of the expeditionary force against Troy, Agamemnon is told that he must sacrifice Iphigenia to appease the goddess Artemis, who has caused the unfavourable weather.
Agamemnon lures his daughter to Aulis by pretending that she will marry Achilles… What happens next? Only one way to find out!
Remember to support the wonderful Juniors in this exciting production.
---
MORE AUDITION NEWS
COMPANY by Stephen Sondheim and George Furth
I am really very excitied to be bringing Company back to the stage of The QMT in our 40th year, and funnily enough just over 40 years since it was last performed by The Bancroft Players (1982).
Audition Dates
Tuesday 7th Feb 2023 at 7:45pm
Thursday 9th Feb 2023 at 7:45pm
Rehearsals
Rehearsals will be on Tuesdays and Thursdays, with some Sundays as needed
Opening on Broadway in 1970, Company with music and lyrics by the late Stephen Sondheim and a book by George Furth went on to receive 14 Tony Award nominations (a record at the time) and ended up winning six of them, including Best Musical.
Originally a series of individual scenes written by Furth, it wasn't until Sondheim showed them to his friend and collaborator Hal Prince that he said they would make a good musical. So, Sondheim got to work and tied them all together around a central character celebrating their 35th birthday and dealing with the challenges of modern life and the struggles of dating, marriage, and divorce. This central character shared the stage with 5 married couples and three love interests.
The show takes place in central New York and in this production, I hope to be able to transform the main auditorium into a multi-layered performance space by removing the main stage and building a large bridge which connects either side of the stage which the actors can walk over, under and around in all the various scenes and musical numbers.
In total I will need 14 performers, who can all sing (the harmonies are gorgeous, but a challenge!), act (the scenes are equally comedic and emotional) and move/dance (there are at least 4 large production numbers).
---
FRIDAY NIGHT IS…
Following the success last year of opening the bar more frequently, we would like to try to open every Friday and occassionally offer entertainment on those evenings too – we will shortly be asking for volunteers to help run the bar on those evenings and asking for people who might like to host an event – this could be a quiz, open mic night, karaoke evening, play reading, the only limit will be your imagination, so please get in touch if you'd like to ge involved.
Elliott Bunker
Membership Secretary
members@qmt.org.uk
---
DATES FOR YOUR DIARY
January
13th – Directors Workshop
17th – 21st – Accidental Death of an Anarchist
23rd & 25th – AUDITIONS – Beginnings
27th – Members Evening & EC Surgery
February
2nd & 3rd – Juniors Production – Iphigenia
7th & 9th – AUDITIONS – Company
10th – Directors Workshop
24th – Members Evening
27th – 4th March – Equus
March
10th – Directors Workshop
22nd – 25th – Big Spirit Production
29th – 1st April – Hitchin Thespians – Honk!
April
7th – Members Evening
18th – 22nd – Beginnings
24th & 26th – AUDITIONS – Red Lion
28th – Members Evening
May