DECEMBER 2022 EDITION
---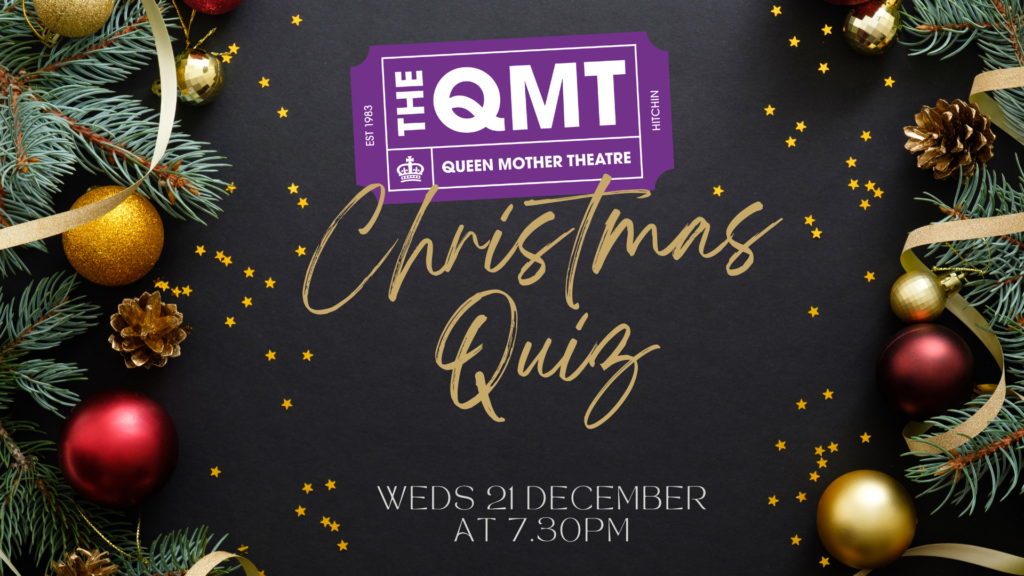 THE QMT CHRISTMAS QUIZ – 2022
Get your quizzing brains warmed up for this years QMT CHRISTMAS QUIZ. Everyone is welcome to this evening of Christmas cheer, mince pies and quizzing. Previous years have seen the bar and foyer of The QMT bulging at the seams, so let's make this year just as memorable.
Put Weds 21st December in your diaries now, the bar is open from 7.30 and the quizzing will start from 8pm. Teams of up to 6 – either bring along 5 friends or make a group when you get there. Prizes for the winners, best team name and best Christmas attire.
---
ARTISTIC DIRECTORS BLOG
Well ding-dong, merrily on high, it's Christmas again – bring on the mince pie! Yes, it's all happening here at the QMT, what with the cast of Dick Whittington and his Cat girding their loins (or hitching their skirts – you know who you are, Brian) and the Christmas Quiz being gently cooked. Now what was it that Noddy Holder of Slade said? Oh yes 'it's CHRISTMA-A-A-A-S!'. Got it Noddy, thank you. Anyhow, please come along to the panto and the quiz and you'll have some damn fine FUN! Details for both events are elsewhere in this issue.
But what of 2023, I hear you cry? Well Accidental Death of an Anarchist, Dario Fo's fantastic comedy is hitting the Studio in January and then it's Equus with George Adams as Alan and Charles Plester as the psychiatrist, coming into the main house at the end of February. Also, in February, we are auditioning for our big musical, Company. Treat those tonsils gently this Yuletide so you are ready to join this amazing production. If you don't normally come to auditions, give it a go. They're great fun and we try and incorporate as many people as we can in each show, both onstage and behind the scenes. More info will be given in the January edition of the Green Room.
Finally – ever wanted to be a director? Course you have – in fact you can't wait! Well we are offering director workshops for all you aspiring Scorseses out there. No – he's not a stage director, is he? All you Nicholas Hytners out there. That's better! There will be real practical instruction given plus the chance to put it all into action by working on scenes with actors.
Well dear friends – have a great time whatever you choose to do. Come to the theatre of course and spend precious moments with those you care for and who care for you. Salut!
Rory Reynolds
Artisic Director
---
DIRECTORS TIPS
Here is the second part of 'tips for directors' to help you to think about the role of a director. And there are some Director Workshops coming up soon.
DIRECTOR WORKSHEET
I think the director's role is like the storytellers role – that is to tell a good story in a captivating way. There are three core elements to any play: the PLOT, the CHARACTERS and the RELATIONSHIPS.
PLOT
The plot of the story is the narrative journey and it flows through the play. From the opening scene to the curtain it's like a river running from its source, the spring onto its end-point, the ocean. In between it sometimes moves fast rushing and tumbling and at other times it will move slowly before becoming wide and glorious at the end. The river is never still though – and neither is the story. It's always moving onwards relentlessly towards its goal.
CHARACTERS
Each actor has to discover their character and your job as a director is to help them with this task. In a play, unlike real life, characters are there to serve the plot. Even in plays that purport to be character-driven (say Chekhov's 'The Seagull') the story of the character's lives is the plot.
I like directors to take a hands-on approach to helping actors with character. It's all very well to send actors off into corners to discuss stuff but it's much more effective to do this work either with individual actors one-to-one or to get the cast working together exploring their characters under your direction.
RELATIONSHIPS
All plays ultimately are about the relationships between the characters in the story. As a director it is essential that you understand how these relationships stand at the beginning of the play, how they change throughout the play and what precisely happens in the play to cause those changes. Even if you ignored PLOT and CHARACTER focussing on RELATIONSHIPS in this way would allow you to effectively direct a play – that's how important understanding and communicating RELATIONSHIPS is.
MOVEMENT ONSTAGE
The balance of stillness and movement is vital. A play in which the characters never move is static which is boring. The characters must move so find opportunities to bring movement into a scene. Think of the stage picture. What would a person without hearing see if they looked at the play? Would they understand what is going on? Find movement that conveys the meaning of the story. Do these people like eachother? Do they trust eachother? Do they hate being together? All that can be left to the pictures you paint onstage with your actors.
THE PSYCHOLOGY OF ACTING
How do people go about creating characters that are essentially 'not them'? This is what actors do, isn't it? They create representations of people who are not really like they are doing things that they wouldn't dream of doing. Well at one level it is natural. In the heart of any society, people take on roles. They become nurses, bank managers, rock stars, priests, campaigners. We take on roles all of us. You're a son or daughter, you're a student, you're a rebel, you're a conformist. Everyone in their lives plays a variety of roles – what Greeks called a 'persona' or mask. To help actors identify their characters, the director must set up opportunities for the actors to understand the person they play and then find a way to play them. And that means that the director too must understand the play and the characters that are in it. At first the cast won't know the play or the characters so you have to.
Rory Reynolds
Artisic Director
---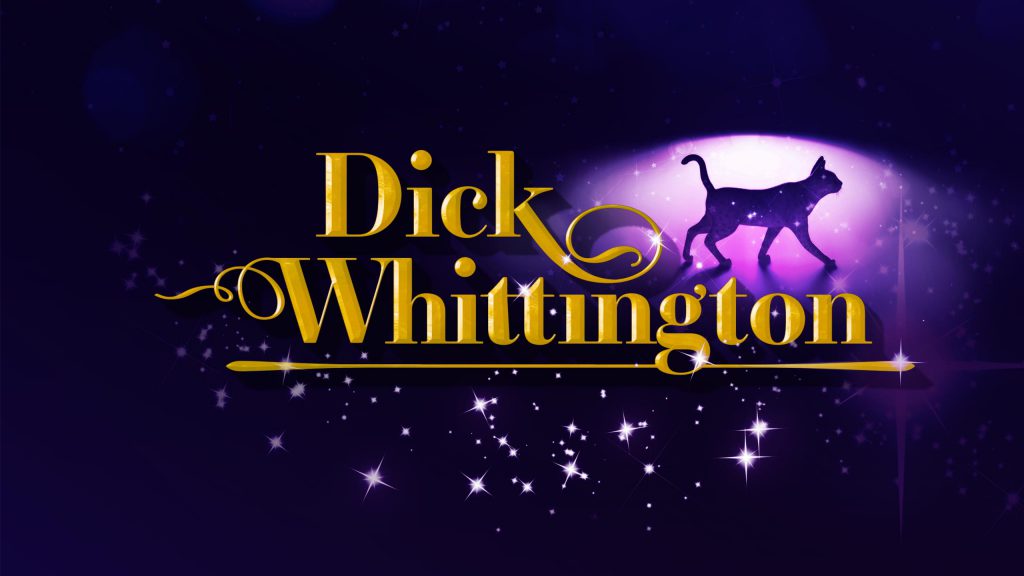 THE PANTO OPENS THIS WEEK!
If you haven't already got your tickets for this years amazing panto, DICK WHITTINGTON, then there is still time. RIchard, Dee and the whole team have been working really hard to make this years more fun-filled and action-packed than ever, with more songs, a swash-buckling sword fight, a shipwreck and even a magical UV underwater scene!
While primarily a family show for all ages, remember the team are doing an adult-only night on Thursday 15th December, where the innuendo will be turned up to 11 and some of the action is sure to get more spicy than usual, so why not buy two tickets and leave the kids, grandkids, neices and nephews at home!
Also, if you missed it – remember to read up about how this years panto is a real family affair.
Dick Whittington runs from Friday 9th December to Saturday 17th December at various times. It's a great chance to get away from the World Cup action too, if you're not a football fan that is!
---
NEWS FROM THE EC
At the time of writing this we haven't yet had an EC meeting in December, so we'll make sure there is a full update in the January edition of The GreenRoom, but we did have the first of our EC Surgeries – a chance for anyone to come along and ask any question or find out more about what's going on.
This event coincided with a new members open evening, an open bar night, a technical run-through with an external hirer and film night, so the theatre was absolutely buzzing, as it should be!
It was reallylovely to see so many of you turn up and see the bar open and busy. The evening was very informal, but there was definitely lots of excitement about our 40th anniversary gala event, which is due to be held in July 2023. The tickets for this event will be onsale in the new year, so look out for that.
There was also great feedback about the use of RotaCentral – the system we now use to manage our front of house, stewards and bar shifts. With many people saying how easy it is to use. Emma Northcott has now taken on the co-ordination of our Front of House teams (thank you Emma), so please make sure you reach out if you're not getting the regular updates from that system or if there are any problems.
There was also really positive feedback on the new members discounts on tickets and the free tickets for doing a front of house or bar shift. This discount has seen an increase of 37% in members buying tickets for shows vs the same period last year and we've already given members over 70 free tickets to see shows and over 225 hours volunteered in just our front of house and bar teams.
Watch out for more of these members evenings and EC surgeries in the new year.
Elliott Bunker
Chairman
---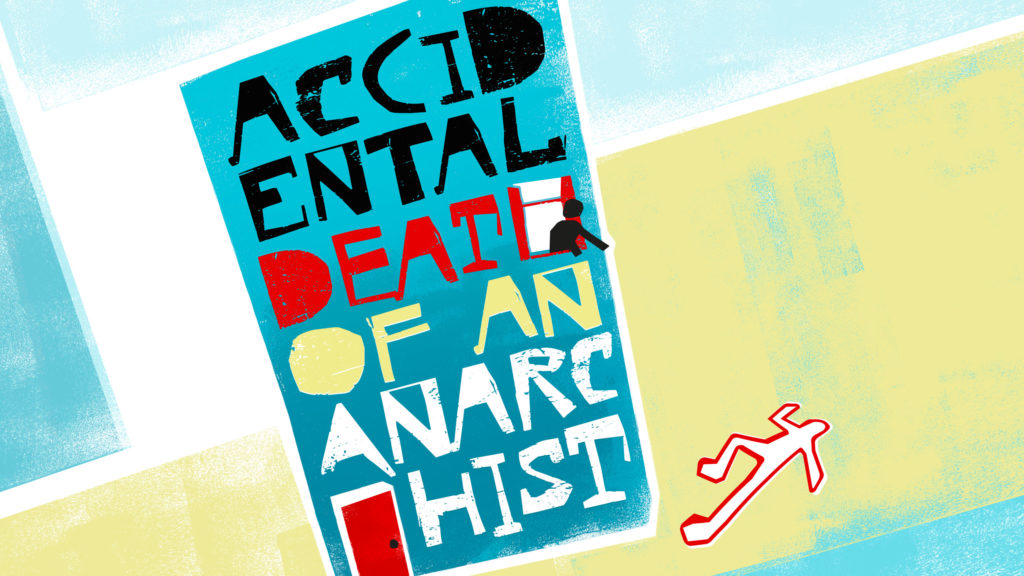 ACCIDENTAL DEATH OF AN ANARCHIST
Tickets for Accidental Death of an Arachist are now onsale.
A shape-shifting fraudster, known only as The Maniac, is brought into Police Headquarters as the officers inside prepare for a judicial review of the 'accidental' death of a suspect weeks earlier.

Deftly duping the police into revealing the truth, The Maniac exposes the corruption and idiocy at the heart of the system.
In its first two years of production in Italy, Dario Fo's notorious Accidental Death of an Anarchist was seen by over half a million people. It has since been performed all over the world, and become a classic of twentieth-century drama. A sharp and hilarious satire on police corruption, it concerns the case of an anarchist railway worker who, in 1969, 'fell' to his death from a police headquarters window.
'I ought to warn you that the author of this sick little play, Dario Fo, has the traditional, irrational hatred of the police common to all narrowminded left-wingers and so I shall, no doubt, be the unwilling butt of endless anti-authoritarian jibes.' (Inspector Bertozzo, Central Italian Police HQ)
Accidental Death of an Anarchist run from Tuesday 17th to Saturday 21st January 2023
---

AUDITION NEWS – COMPANY
Audition Dates
Tuesday 7th Feb 2023 at 7:45pm
Thursday 9th Feb 2023 at 7:45pm
Rehearsals
Rehearsals will be on Tuesdays and Thursdays, with some Sundays as needed
Opening on Broadway in 1970, Company with music and lyrics by the late Stephen Sondheim and a book by George Furth went on to receive 14 Tony Award nominations (a record at the time) and ended up winning six of them, including Best Musical.
Originally a series of individual scenes written by Furth, it wasn't until Sondheim showed them to his friend and collaborator Hal Prince that he said they would make a good musical. So, Sondheim got to work and tied them all together around a central character celebrating their 35th birthday and dealing with the challenges of modern life and the struggles of dating, marriage, and divorce. This central character shared the stage with 5 married couples and three love interests.
The show takes place in central New York and in this production, I hope to be able to transform the main auditorium into a multi-layered performance space by removing the main stage and building a large bridge which connects either side of the stage which the actors can walk over, under and around in all the various scenes and musical numbers.
In total I will need 14 performers, who can all sing (the harmonies are gorgeous, but a challenge!), act (the scenes are equally comedic and emotional) and move/dance (there are at least 4 large production numbers).
---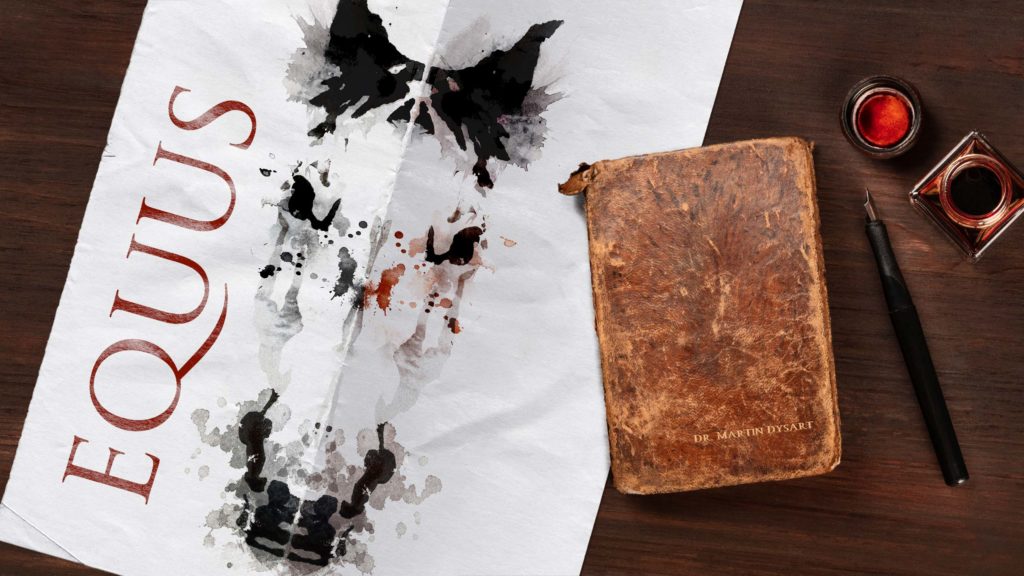 EQUUS
Tickets for EQUUS are now on sale.
Equus is about a boy who blinds 6 horses. We know he did it – there's no question about that. Alan is just a normal 17 year old so the problem for Dysart, the psychiatrist at the special adolescent unit where he is sent, is why? Why would an ordinary, kind, naive youngster behave so monstrously?

Equus follows Dysart's journey of discovery as he works with Alan. The thing is – the journey changes Dysart himself. He recognises that there is something about Alan that he himself lacks, something Dysart the intellectual has always lacked – passion. He begins to feel that his life, exalted and privileged as it is, pales by comparison with this simple teenager who knows the full force of his God's love. And ironically, it is down to him as a psychiatrist to cure the boy and make him safe by taking away that remarkable passion. 
A modern classic play that remains shocking and riveting.
Equus runs from Monday 27th February to Saturday 4th March 2023
---
200 CLUB
Congratulations to this months winners – remember next month is the special Christmas draw!
£25 – John Butler
£20 – Bev Boltons
£25 – Barbie Gardner
£10 – Richard Millichimp
Paula Downes
paula.downes@ntlworld.com
---
DATES FOR YOUR DIARY
DECEMBER
9th -11th
Dick Whittington Production Weekend
15th
**ADULTS ONLY Dick Whittington**
16th – 17th
Dick Whittington Production Weekend
21st – 7.30pm
QMT CHRISTMAS QUIZ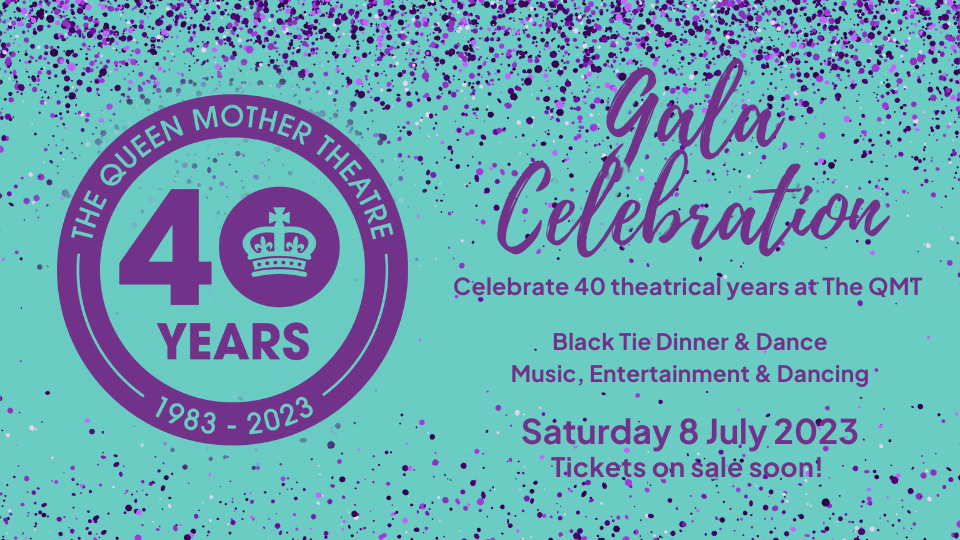 ---